Enjoy the Plugin! / Viel Spaß!
If you see this page, you just installed the Plugin "Follower Insights for LinkedIn". Thanks!
Important:
Important: Please reload your LinkedIn Page to make the Plugin work.
With the free version of the Plugin you will see the follower count in detail if its below 1.000 followers. If you want more insights, I can highly recommend the pro version of the plugin.
Wenn du diese Seite siehst, hast du gerade das Plugin "Follower Insights for LinkedIn" installiert. Danke!
Wichtig:
Bitte lade deine LinkedIn-Seite neu, damit das Plugin funktioniert.
Mit der kostenlosen Version des Plugins kannst du die Anzahl der Follower im Detail sehen, wenn sie unter 1.000 Follower liegt. Wenn du mehr Einblicke haben möchtest, kann ich dir die Pro-Version des Plugins wärmstens empfehlen.
More Details and all about the Pro Version
Pro Version - whats the difference?
Easy! If a profile has more than 1.000 followers the free version shows "1.000+". If you purchase the pro version this limit wont exist anymore and you get the full insights.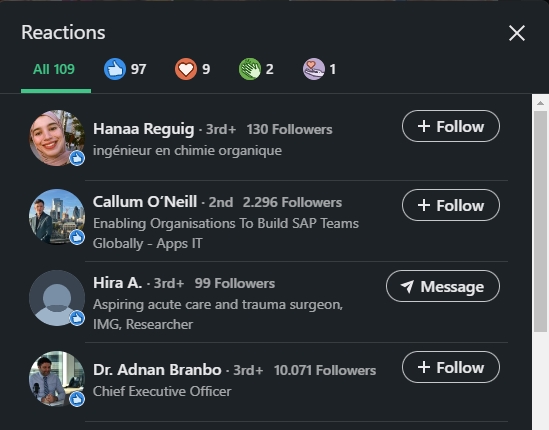 You already got a license key?
Awesome! Thanks for your support! 😍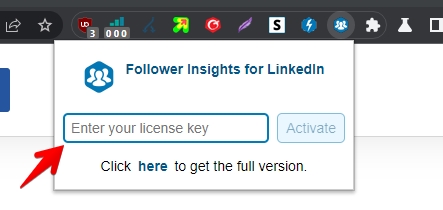 To active it, simply open the plugin and paste the key into the section and click activate. Now all you have to do it reload the LinkedIn page one more time.
To support my work that I put in creating such plugins, dashboards, tool reviews and a lot more, I ask for a small price for a license (under $10!)
Just calculate how much time you spend to find out the number of followers per profile and now compare that to the price of the plugin. Easy, right? 😄