Show LinkedIn followers where it really matters!
In addition to the title and initial description, the number of followers often says a lot about the reach and activity of a LinkedIn account.
Unfortunately, LinkedIn only shows this number in a few places and so you have to look at LinkedIn profiles relatively often to get a feel for the reach and activity. With this plugin you save the time to check every profile!
Follower Insights for LinkedIn Plugin
I solved this problem with a browser plugin for Google Chrome and Edge. The plugin is available in two versions and not only saves you time but also provides additional insights.
In which sections are followers displayed?
After installing the plugin and refreshing the LinkedIn page, the followers of a profile are displayed in various places. These may be expanded in the future, but are already very useful. 
In the LinkedIn feed for every post
To rate profiles directly in your feed and see their reach, followers are displayed with each post in your feed.
In addition to the feed, it is of course also exciting to see how large profiles are, which cavort in the comments. Here too, the plugin shows you the followers in each comment next to the name.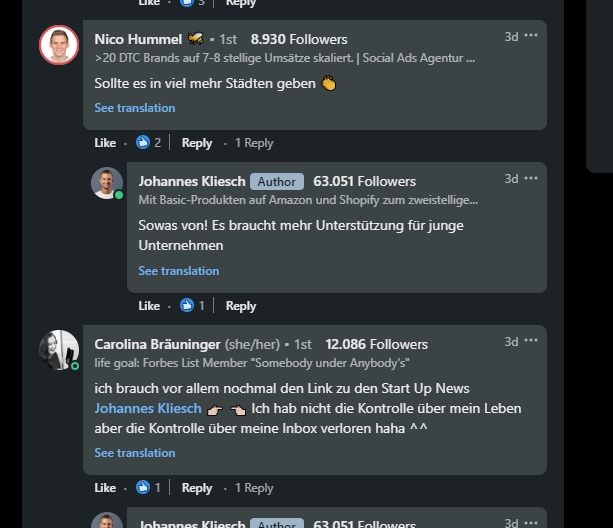 In the LinkedIn Likes / Reactions
And also in the LinkedIn reactions, thanks to the plugin, you can quickly see which profiles already have many followers and quickly identify potential influencers.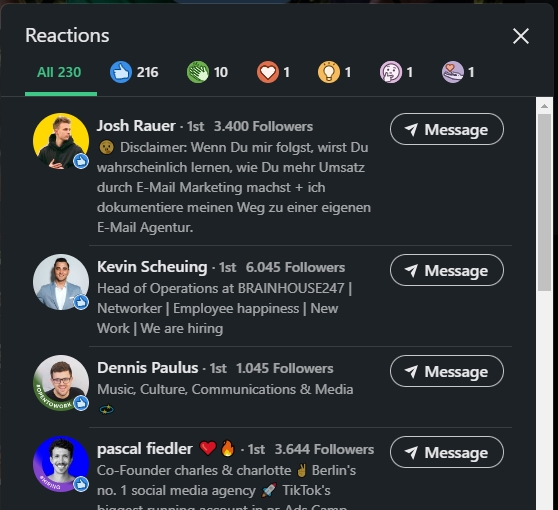 In every LinkedIn People Search
If you start a regular LinkedIn people search, you will also notice the exact amount of followers, next to every profile.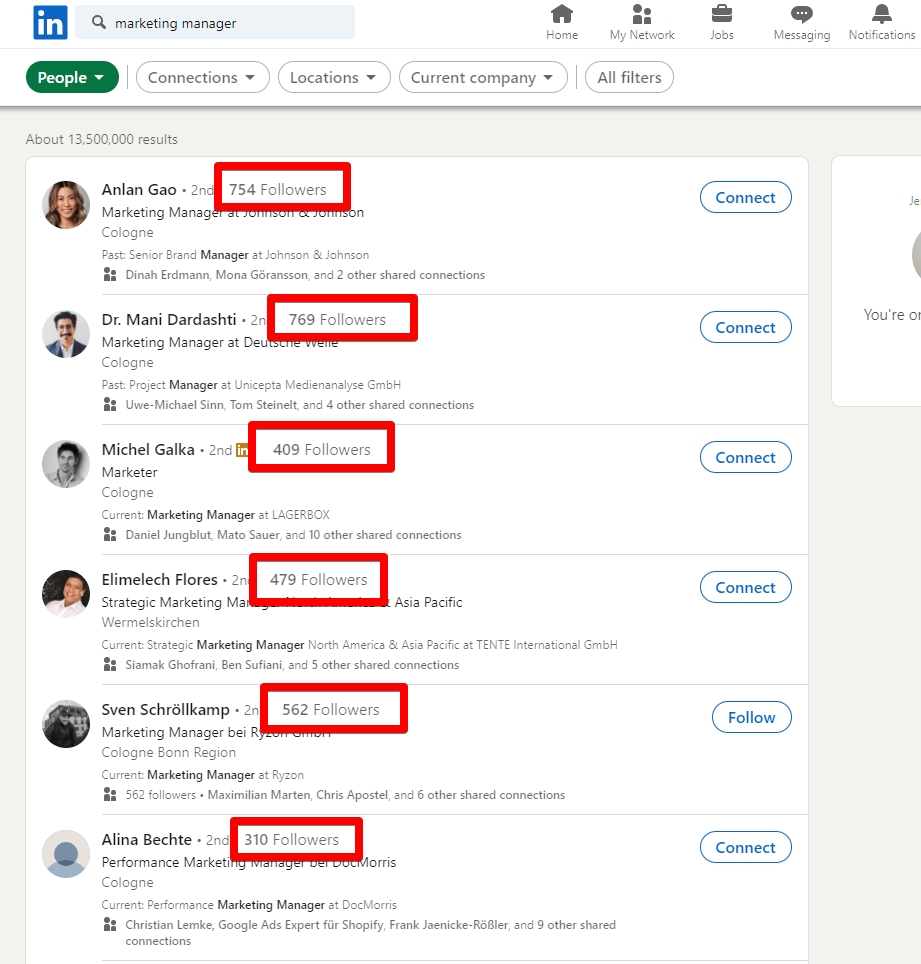 In incoming contact requests
To get a feeling on whos asking you to connect with you on LinkedIn, I also added the follower-count in this view.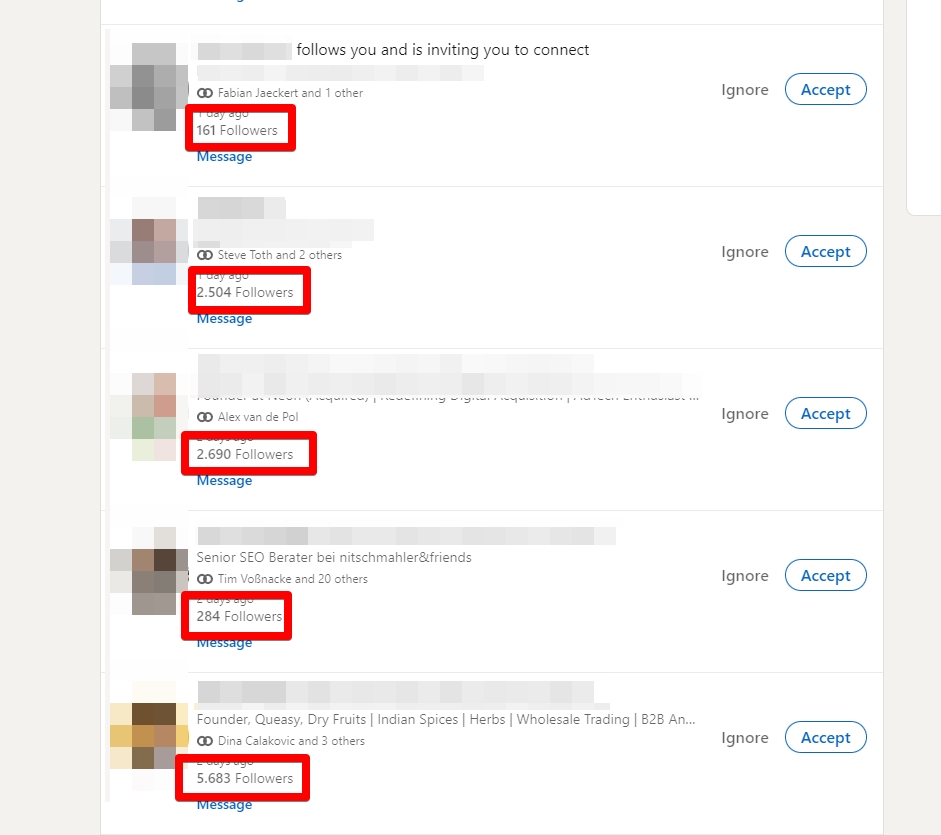 New: direct look at all followers
You can already set a filter in the regular LinkedIn search to find followers of a profile. 
However, this is a bit more time-consuming over 2-3 clicks and is often forgotten.
In the Pro version of my plugin, you can now simply click on the follower count (in any view) and jump directly to the corresponding search.
Different follower counts?
Yes, the numbers in the view and in the search are very different. But the reason here is quite simple. Only the followers who are not linked to the corresponding profile are displayed in the search.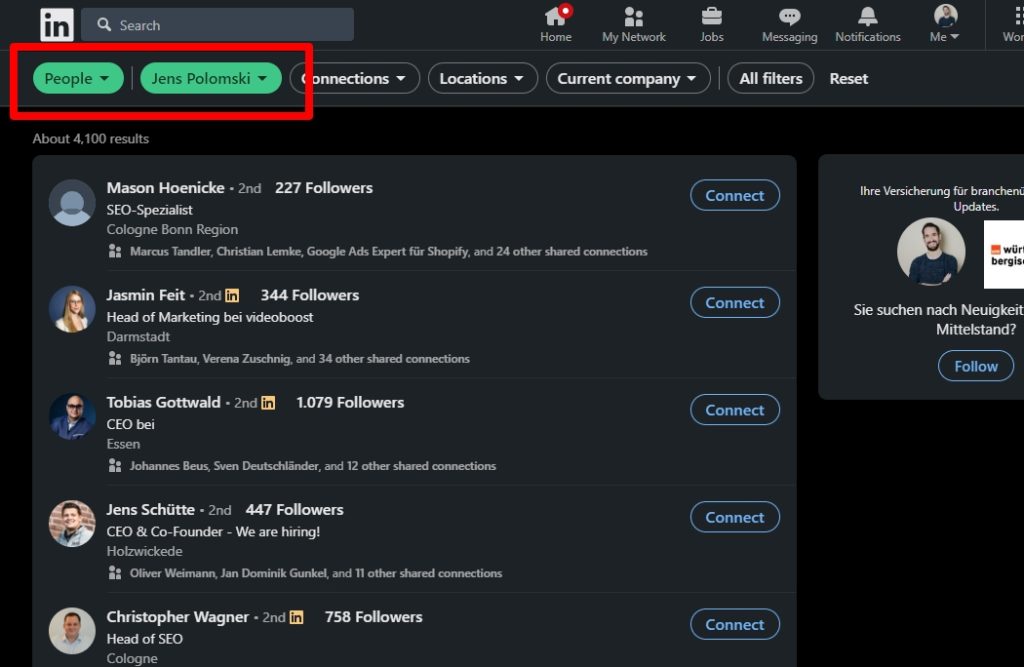 Benefit: More insights and save a lot of time!
And what do these numbers do for you on LinkedIn? Quite a lot! 😄
If you publish content on LinkedIn yourself, you naturally want to have active profiles in your network, which also bring you more reach through interaction with your content. You can easily identify these profiles via the plugin.
In addition, even with other people's posts, you'll quickly find great profiles here that have already built up a large network outside of your bubble.
Surely there are many more reasons why the number of followers is a super indicator here and to evaluate profiles quickly and easily.
With the Pro version, you no longer have limits on the number of followers and can see exactly whether a profile has only 2,000 followers or 200,000 followers.
Positive side effect: You support my work, the further development of the plugin and new (free) content with it. Here already a big thank you! 🤗
Follower Insights for LinkedIn
€
9,99
One-Time (VAT will come on top)
No limit on the number of followers
payable with PayPal or credit card
Why not completely free of charge?
On my blog there are numerous plugins, tutorials, dashboard and tips that I put a lot of time into and will continue to provide this for free. With projects like these I try not only to earn a little money, but also to gain experience in promoting paid projects.
However, even with the free version you can get some insights about the
If you decide to go for the paid version, thanks already for your support!
Why only a one-time payment?
Although I no longer want to miss the plugin, but to demand a monthly payment here I think is exaggerated and I would not use myself. Should also remain realistic.
What happens after payment?
After I receive your payment, I will send your individual license key to your payment email as soon as possible. Currently I still handle the process manually (because I can't foresee the interest yet). So it may take some time sometimes. But don't worry, you'll hear from me!
What do I do with the license key?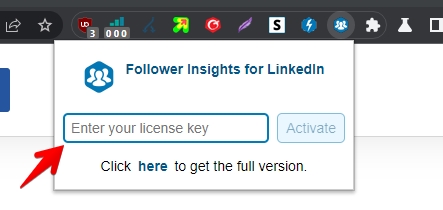 After you have received your license key, you can simply enter it in the plugin and click "activate". Now you just need to update your LinkedIn tab and access the full insights.
IMPORTANT: Can I pass on my license key?
No. One license key must also be purchased per user. If I detect unauthorized sharing of license keys, I will block corresponding licenses. 
Want to become an affiliate partner?